Welcome to GradEX23
Staffordshire University is a catalyst for change. Our primary goal is to empower students to make positive and transformative change in their future workplaces and wider society.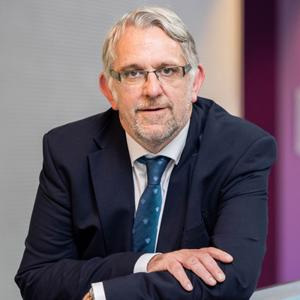 As such, we are dedicated to supporting and valuing creativity across our student community and I am delighted to welcome you to GradEX 2023, our annual exhibition of project work undertaken by our final year students.

This showcase event demonstrates the exciting contributions our students bring to the University, not only in terms of their work, but as individuals too.

Talented students are at the heart of our success, and we work hard to ensure they can connect locally, regionally and globally with industry experts as they take the next step in their work and education journey. GradEX shares innovative project work with our industry partners, presenting employers with opportunities to be introduced to our next generation students. Each year, the interactions that take place between our students and key industry figures generate job offers and career opportunities for our future graduates.

Our portal, which includes links to students' LinkedIn profiles, portfolios, and CVs will be shared with industry partners from Monday 5 June and this will remain accessible to prospective employers throughout the summer months.

We are incredibly grateful to the companies, alumni and professional organisations who are making the time to view our students' work. This all serves as a testament to the hard work and dedication of our ambitious and inspirational students.
I want to personally thank participating students for their incredible focus, commitment, and creativity throughout the course of this year. We wish them every success for their future and hope they continue to stay connected with Staffordshire University for years to come.
Best wishes,
Professor Martin Jones
Vice-Chancellor and Chief Executive
INNOVATIVE ENTERPRISING PASSIONATE INDUSTRIOUS CREATIVE INSPIRING